Nicolas Dobkine is a self-made artist and sculptor who essentially belongs to the neo-pop art movement. Nevertheless, he ambitions to create a new movement drawing inspiration from neo-pop art but with a thorough humanist and symbolistic perspective. Following his eagerness to create, he went on to do an onthological study of Art. Out of this study came a theory. The interpretative and humanistic figuration that embodies this theory is represented within his first sculpture, which boasts to experiment and translate this newly-found artistic paradigm.
"Reflection, Action, Change"
Nicolas Dobkine - Interview
How many years have you been working on this sculpture?
I have been working on this concept (interpretative and humanistic figuration) for the past four years. The concept lies within a profound study and analysis of human nature divided in different aspects: ontological, social, philosophical, political, anthropological, psychoanalytical, etc. The goal is to materialize and bring to life invisible realities that we are blind to. This intellectual process came to life in January 2020 with the creation of my series' first chapter: "Materialize Human Condition", the demiurge.
If you were an advertisement, what would your motto be?
Reflection, Action, Change
Which part do you enjoy the most about creating a sculpture?
The part I am the most interested in is to adequately translate my concrete idea into the physical realization of a sculpture. This is especially the case when it comes from an intellectual process that has been maturing for months.
What is your main inspiration when you are creating new art pieces?
I am drawing the biggest part of my inspiration from my readings. I am rather eclectic and love reading philosophical, sociological and anthropological essays. I deeply enjoy reflecting on the world and the human condition, and it is in books that I source my inspiration.  Getting visible the invisible human condition is for me both a challenge and a satisfaction. My duty is to endeavor to bring a new concept to the Art world by spreading a humanistic "knowledge" and "reflection in a comprehensive way thanks to the figuration.
What does creating sculpture means to you?
To me creating a sculpture is the prize and the end of a long intellectual reflection on a given subject. If I succeed by doing so, then it already is a success and achievement for me.
Define your art in 3 words.
Reflection, Exclusivity, avant-garde
If you didn't like creating sculpture what would you like to do?
I would most likely become a writer if I did not have the opportunity to create sculptures. I have a somewhat obsessive relationship with knowledge and its transmission to the other. I love learning and discovering new things as well as transferring my knowledge to contribute to humanity.
Do you consider that nowadays there are more or less opportunities for new artists? Why?
I believe that the art world is rough. There are countless people that are constantly trying their luck, but only a few eventually succeed. Opportunities remain for those who have the ability to differentiate themselves from the others.
What would your idyllic life as an artist be like?
The perfect life that I envy as an artist would be to realize my whole series "Materialize the human condition" because I still have much to bring, say and share with the world.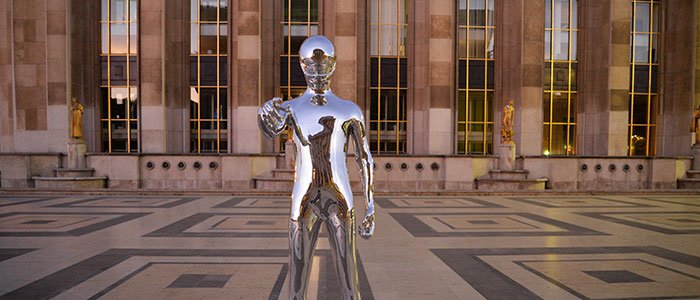 Nicolas Dobkine - Projects
Do you want to know more about Nicolas Dobkine? You can find some projects below.
Do you want to discover more artists? Follow us!