Priyaali Kanti, born in the Hollywood of India, better known as "Mumbai" and raised in the capital "Delhi", her family and her moved to Canada in the Summer of 2017. She is an aspiring actor and model from Vancouver, BC and she has used her platform in pageantry to get more exposure to the industry.
Never had she known that this platform will also give her an opportunity to give back to the community and change people's mindsets.
"Changing the Perception of Beauty"
When did you start to get interested in pageantry?
I remember a 10-year-old me who would be in awe of the ladies wearing a crown and sash on television. I always wanted to be this figure for young girls. Just within a year of moving to my new home country, I got crowned Miss Teen BC int. and became one of the ambassadors for my province. I learned so much about my community and fundraised for some of the biggest local organizations like East Meets West and Kelowna Community Resources. Moreover, I wanted to battle my fear of "Public Speaking" which I am very successful in falling in love with now.
If you were an advertisement, which would your slogan be?
Changing the Perception of Beauty
Which is the part you enjoy the most about pageantry?
Be it as an Actor, Model or a Pageant girl – I have gotten to meet so many people and learn about their stories. In 2019 when I competed in Quebec for the title of Miss Teen Canada, I surrounded myself with the most influential and hardworking women of our country. I thoroughly enjoyed the whole training process and learned skills worth a lifetime!
Most artists say that through their art they learn more about themselves, heal injuries… In which aspects has pageantry helped you?
Public Speaking and Pageantry have helped me find happiness in helping others and giving back to the community that bestowed so many blessings upon me. Back in 2019 as Miss Kelowna, I dedicated a full year to my community and also played a substantial role in the Sister City relationship between Kasugai and Kelowna.
Through this platform, I have also learned to utilize my passion for Dancing to help and heal the community by raising funds for the frontline warriors of COVID and also performing at events, bringing color and vibrancy. Pageantry has also taught me about the importance of "inner beauty", which is much more than just looking pretty and wearing sparkly tiaras, it is a responsibility that one takes toward the community.
What does pageantry mean to you?
Much like the idea of conventional pageantry, which people believe is for women with the perfect "model-like-look" and runway skills, I want to prove that Canadian pageantry embraces women who are as beautiful on the inside as well.
Unlike a stereotypical pageant girl who is tall and always has a good-hair day, I am just a girl from next door who wants to use her voice to drive change in her community. To me wearing a crown and sash is not about being a Model but being a Role Model.
Who are your idols?
Maria Thattil – Miss Universe Australia 2020 broke the stigma of being a short pageant girl and landed Top 10 in the Miss Universe Pageant. Despite people's derogatory remarks for her race, height and how she isn't the perfect definition of and "Australian Beauty", she stood strong and never let anyone shatter her confidence.
If you didn't like acting/modelling, what would you like to do?
I recognize the importance of having a "back-up" plan especially if one wants to pursue the performing arts as a career. As much as I love my art, I highly value academics which I why I am specializing in Finance with a minor in Economics at the UBC Sauder School of Business. If it was not for my art, I would like to get into Consulting which is a good balance of having tasks that are client-facing and cerebral.
What would your idyllic life as an artist be like?
Just waking up every day and looking forward to the day. Enjoying life to the fullest not seeing my occupation as "work", but as something, I love to do.
Which are your upcoming projects?
I will be competing as a National Finalist at the Miss World Canada pageant. I am so excited to be meeting women from all over Canada. My Beauty with a Purpose is Project INDigreat, which illuminates a light on the systematic and legislative issues faced by Indian immigrants and helps them embody the welcoming spirit of Canada.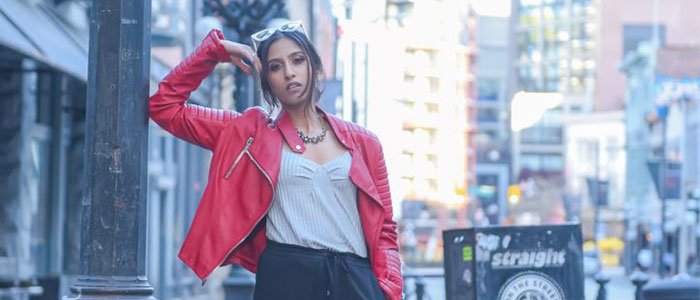 Do you want to know more about Priyaali Kanti? You can find some projects below.