Staying busy weaving her stories and poetry into an intricate strain of acoustic pop it is no surprise that Steph Devine has hit the ground running with her music in 2021.  Based out of Connecticut with roots in Massachusetts, Devine writes in various styles centered on the Indie and Acoustic Pop genre. Wielding journals full of unnamed songs and poems. She is embarking this year on a journey to bring her songs to life and the world. Her debut single, "Be" is out now on all streaming platforms.  
A self-taught singer-songwriter in her own right, Steph Devine grew up writing and listening to all types of music. From a young age, music has been one of the most important forms of creative expression in her life. In fact, while growing up, there was always some type of music playing in her home. Dad listened to jazz and blues, while Mom followed artists like Jackson Brown and The Eagles. She acknowledges "Baby Don't Go" by Sonny and Cher as an important piece in her motivation to get involved with music.
It wasn't long until Devine fell in love with story-telling that came with writing songs. By sixteen she had taught herself guitar and had written many songs about her life, love, and everything in between. Attending many live concerts she studied the art of performance while learning to play other instruments including the ukulele, banjo, and others.
She has referenced various major influences including The Chicks, Brandi Carlile, Cher, Kacey Musgraves, Train, Taylor Swift and Dolly Parton.
Devine has recently had the opportunity to merge her love for animal welfare with her music career. She wrote a song for No Dogs Left Behind titled "Better Man" which they ended up using as a soundtrack. No Dogs Left Behind is an organization that rescues our furry friends from the illegal meat trade and slaughter in China.  Steph Devine is planning on releasing a collection of singles this year which she is producing with Boston-based Label Lit Honey Productions.  We will be hearing a lot more music from Steph Devine this year.  For now you can stream her debut single, "Be" out now on all streaming platforms.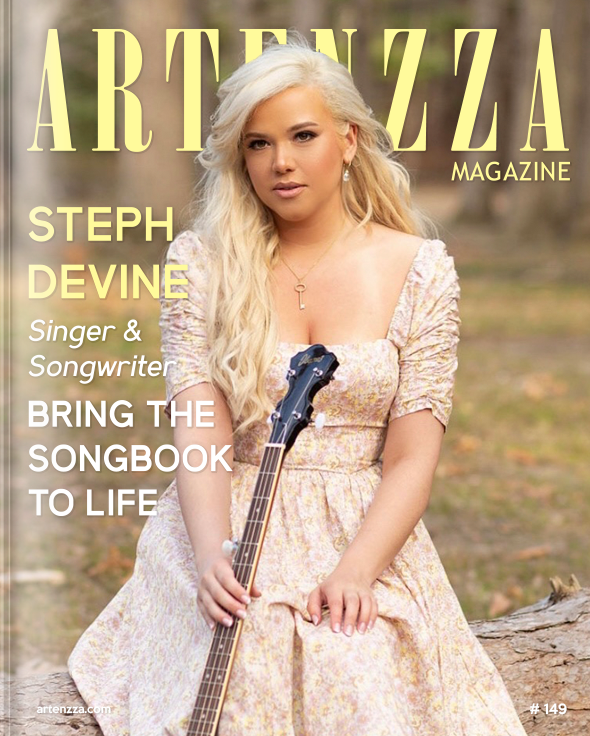 "Bring the songbook to life"
When did you start to get interested in music?
I've been interested in music for as long as I can remember. I remember the first song I ever fell in love with. My mom was playing music in the car and "baby don't go" by Sonny and Cher came on. I sang that songs for days and days until my mom finally got me a stereo so I could play the CD in my room. Even at a young age I knew that someday I wanted to sing and write my own music.
If you were an advertisement, which would your slogan be?
If I were an advertisement my slogan would be "Bring The Songbook To Life"
Which is the part you enjoy the most about music?
The creative aspect is what I enjoy most about music. I love being able to express myself and the way I'm feeling through music. I also love the fact you can always find a song to match your mood.
Most artists say that through their art they learn more about themselves, heal injuries… In which aspects has music helped you?
Throughout my life, music has helped me through so much. Music is there through heartbreak, falling in love, loss, and every difficulty in between. For me, being able to write about my life has helped me process my own personal experiences and has definitely helped me throughout the years.
What does music mean to you?
Music is my go to. It envelops so many aspects of myself. For me, music is a place where I can let go, relax, and allow my creative self to shine through.
Who are your idols?
The Chicks, Brandi Carlisle, Cher, Kacey Musgraves, Train, Dolly Parton and so many more.
If you didn't like music, what would you like to do?
*Still waiting on the answer to this one – will let you know
Do you consider that nowadays there are more or less opportunities for new artists? Why?
I believe there are more opportunities for new artist now due to the availability of social media platforms. Of course, there have been some setbacks due to the pandemic and the inability to perform live.
What would your idyllic life as an artist be like?
Ideally, my music would be enjoyed by others. I would like to continue to write and perform while maintaining a lifestyle that promotes creativity and philanthropy.
Do you want to know more about Steph Devine? You can find some projects below.