RELEASES NEW SINGLE 'UNINTENDED'
It's quite rare to come across really worthy music clips such as Virtuoso's new release, which feels like a cross between Tarantino and a Film Noir.
In Virtuoso's opinion, Muse's ballad is a masterpiece, yet he aims high, believing the instrumental rendition may add an artistic facet and a distinctive sound.
Despite original lyrics portraying a man infatuated with a new love- Virtuoso's clip & Spotify Canvas bear witness to the male victim's story. The woman seems to leave him for an 'Unintended' but doesn't give excuses and opts for a somewhat rattling way out!
Videography direction by acclaimed Israeli photographer Alon Levin captured a restless state that alleviates the viewer only at the very end of the video. The production and script by Virtuoso rely on the viewer's acknowledgement that they are indeed watching a reversed film, only well-into the clip. In directing this, Virtuoso does not explicitly conceal the time-twist, but rather lets our eyes fool our minds.
One may initially believe that the music track is diegetic, being played on the record, however there being no screams in the clip suggest that is not the case. The violin playing is a fictitious swan song which timeframe is not clear to the viewer.
There are multiple hinted elements that demand repetitive views, for instance, we discovered the text message she sends at the beginning (or end) is actually the line from the original Muse song! It is also sent to someone she intentionally disguised as 'My Unintended' on her contacts. Brilliant allusion!
There is an incredible twist at the end, to which one is lured into watching solely by the suspended increasing audio volume, and despite the record needle lifting.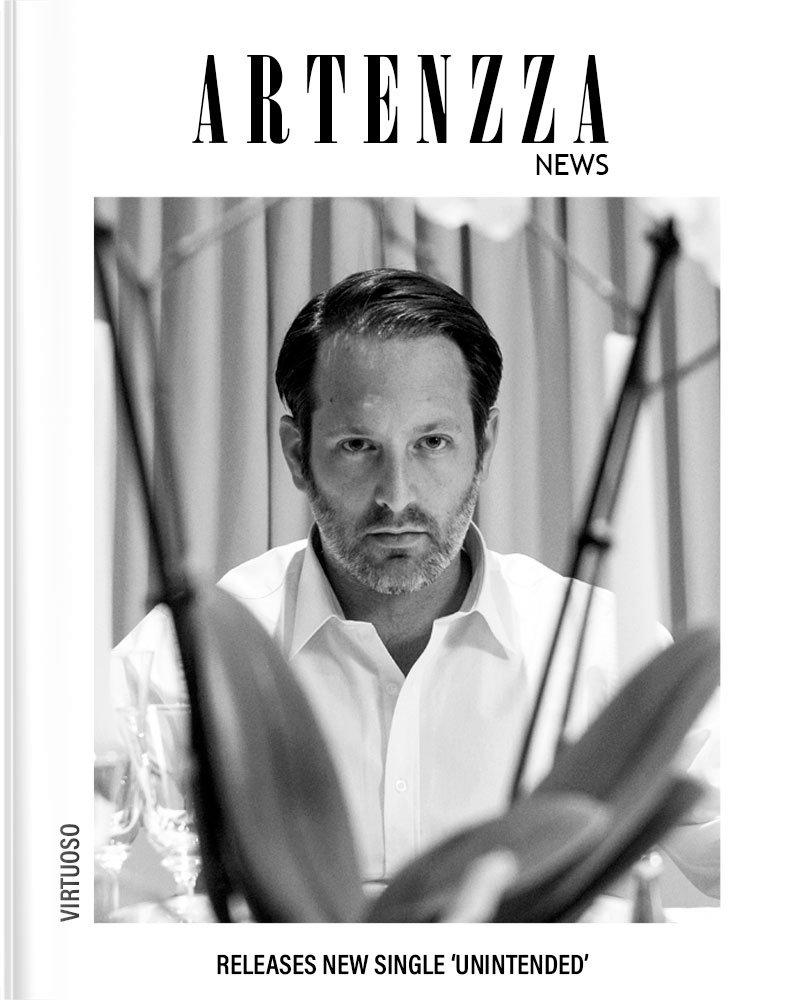 Virtuoso shares that it was hard finding the way to balance an ever-increasing orchestration and crescendo throughout the track to the point of musical climax, with a visual that undergoes constant relaxation to almost nothing, seamlessly. We loved the fragility of those flute-like whispers (like in the original), and the precise coinciding with the woman as she bends over to whisper in his ear.
"I planned to record a single for which cover would be my face bound with cling film, asphyxiated. This would have, quite plainly, represented the lack of oxygen from Covid-19, or more figuratively, the artists' struggle to breath without their metaphoric oxygen – their audience, due to the restrictions on live shows. I feel, like many artists I am sure, I truly come to life in live shows." Virtuoso recalls: "It took only a few minutes until I had the verse from Muse's 'Unintended' playing in my mind and the almost ritualistic pulse of the song, felt like throbbing veins. I then envisioned a young woman walking indifferently around a seated man, wrapping his face up with cling film to the steady beat. I reckoned my rendition could present an entirely different perspective on the original song. We indeed had the film on my face for a minute and it was nerve-racking."
Virtuoso stands out in the artistic scene without a doubt – his arrangements and emotional playing are beyond the limitations of a violin – they are a wordless flow of expression.
This is definitely one to follow!
Unintended Official Video 
'Unintended' Spotify song